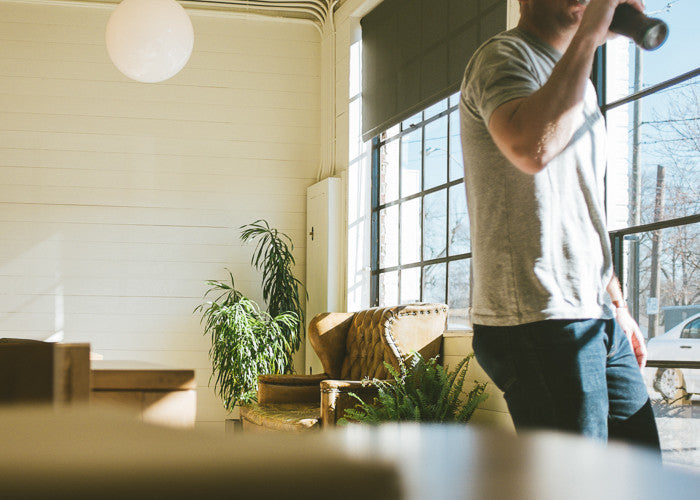 words and photograph by Jake Carnley
Well, here it is. 2017. I love the New Year. I usually spend the first few days of every year doing some dreamscaping and vision casting. The reason it takes a few days for me to get it all down is because I am a big dreamer. I pounce on any opportunity to sit and write down my dreams. Then, I take as long as I possibly can to write them, analyze them, and pray into them. To be honest I have done very little intentional vision casting this year. Outside of a short drive to a cafe with a dear friend, and then a conversation over coffee, I haven't much thought of what I want my 2017 to hold. Maybe I'm tired. Maybe I'm still processing the latter half of 2016. Maybe I just don't know. Here is what I do know:

I want to make decisions from a place of rest
I want to always stay focused on my vision
From a place of rest. Life can be hectic, and it can be difficult. We all, on a daily basis, deal with thoughts and humans both of which can be controlling and hard to manage at times. It is easy to get worked up and fearful, but I am absolutely positively not myself when I am afraid. When I am under the influence of fear, I make decisions from a place of self preservation, and the outcome is usually far from the mark I was trying to hit. There is a confidence that lives in the place of rest. I guarantee you that if this year is anything like last year I will make 1000 mistakes and have to clean up 1000 messes. I just don't want to be afraid on top of it all.
edit: back to the second sentence in the paragraph. I do not feel good at all about leaving the sentence without saying that both thoughts and humans are our greatest assets, and I'm so grateful that I'm around people and thoughts all the time that thrust me towards my dreams and create a safe and healthy place for me to be fully myself.
I was drinking coffee, a common theme, with one of my best pals on the planet. We were hashing through some stuff, and he said to me "you can take a lot of no's when there is a yes in your heart". This is a phrase I can not stop thinking about and may possibly be the most impactful thing that was said to me in 2016. It forces you back to your vision. I want to stay true to the promises in my heart and despite the circumstances, press toward my vision, knowing that it is there for a reason.
What does this mean for Great Bear? We will be focused on my vision for this thing. You may have already noticed that products like beard oil and mustache wax have been removed from our product line. We are a candle company and my priority is to create candles that are inspired by and inspire fond memories. We will be releasing two new fragrances this spring and have been working on many more. We will complete our Wooden line up with a no2 (just released!) and no3 (coming this Fall). I want to continue creating products that folks gather around and continue to provide opportunities for you to pick out a favorite candle whether in shops across the nation or here locally in Birmingham. As always, thank you for an incredible ride and sticking around. I know you'll love what we've been working on!